On June 4, 2019, at the 12th Shanghai International Water Treatment Exhibition, Qingdao Gemii Commercial Equipment Co., Ltd. and DuPont Water Treatment held a comprehensive signing ceremony for commercial water purification and a new product launch conference for cloud business series direct drinking machines. Achieve a comprehensive partnership and sign a cooperation agreement.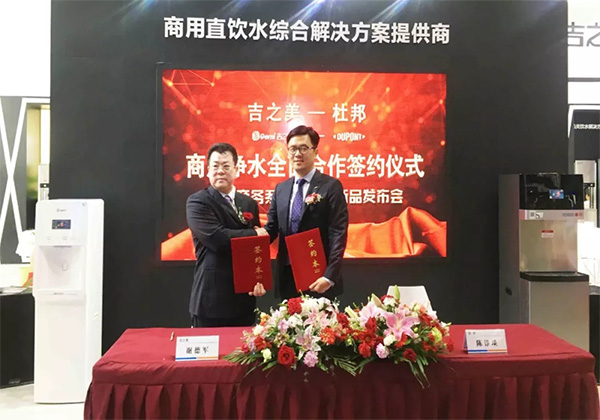 The cooperation between Gemi and DuPont officially announced that the two brands have joined forces to enter the high-end water purification field. It is also a landmark milestone for the two companies to jointly create a new type of smart drinking water products. In the future, the two sides will carry out in-depth and extensive cooperation to promote a commercial high-quality drinking water solution suitable for localization. Through Gemi's rich professional terminal water technology and more than 15 years of industry experience in the field of ploughing drinking water equipment and beverage appliances, coupled with DuPont water treatment from the professional support of water purification systems and water filtration, the two sides will join hands Commercial customers offer a professional and comprehensive commercial drinking water experience. After the signing ceremony, the two parties attended the new product launch conference of Gemi Business Series.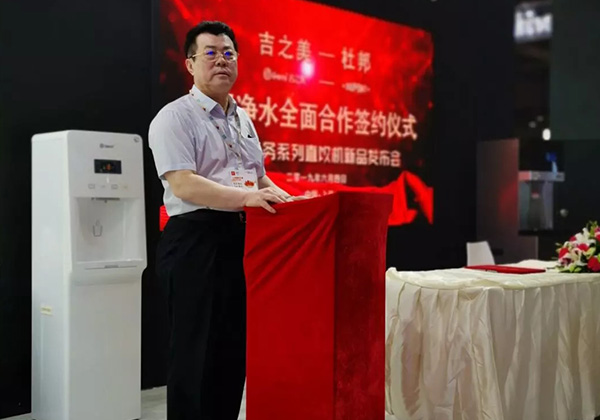 Xie Dejun, general manager of Gemi, said: "RO reverse osmosis technology has become an important driver to influence and promote the transformation of the net drinking water market. As one of the global leaders in the water treatment industry, DuPont has more than 50 years of professional RO membrane technology experience and water. The processing solution can make the combination of Gemi products and water purification technology. We firmly believe that we can bring more high-tech and high-performance intelligent drinking water products to the market, and continuously expand the market share of Gemi's net drinking water to make drinking water safer. Beautiful."

Chen Hao, Commercial Director of DuPont Water Treatment's Home Market in Greater China, said: "This hand-in-hand combination allows us to change people's drinking water lifestyle with more differentiated products and solutions," he said. "With the beauty of Kyrgyzstan. With its product advantages and technology research and development capabilities, DuPont will provide competitive value-added products and continue to promote the deep integration of water purification technology and Kyrgyzstan products to support the upgrading and transformation of China's net drinking water industry."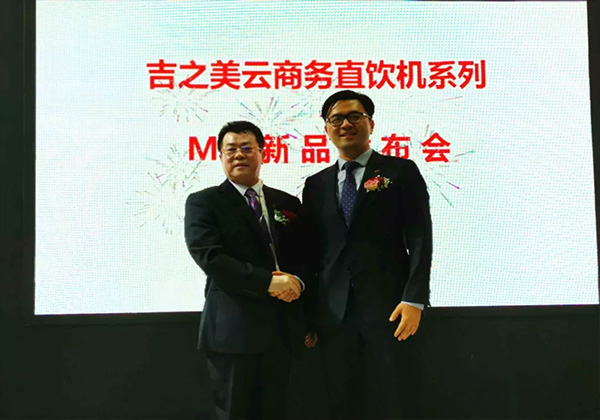 As the leading brand in China's drinking water equipment industry,

Gemi

's core technology for heating and cooling has been in the forefront of the world. It not only has its own core technology such as "step heating technology", "ICE BANK refrigeration technology" and "IRO intelligent water purification technology". It covers the fields of commercial straight drink machines, commercial water machines, commercial water purifiers and household drinking machines. It is one of the largest manufacturers of large-scale commercial and household drinking water and beverage appliances in the world integrating R&D, production, sales and service. This time, it has reached a comprehensive cooperation with DuPont to integrate the world's advanced water purification technology.

Gemi

will provide users with a solution for commercial drinking water solutions including airport stations, business offices, campus schools, restaurant chains, medical institutions, etc. To create a technology-based cloud-based platform for users to create a one-stop service for safe drinking water.

Gemi

will build a Trinity intelligent cloud drinking water service platform with intelligent water purification terminal, remote intelligent management and intelligent big data as the core, so that smart drinking water will lead the industry to develop rapidly.